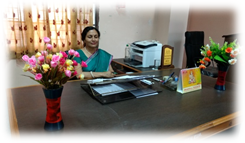 I extend a heartfelt warm welcome to all to Govt. College Naura.
Govt. College Naura came into existence in the year 2007 with Arts and Commerce streams. We are extremely privilaged that Science stream has been sanctioned to the college from the current session 2017-18. The college has well qualified faculty members and committed supporting staff who have shown team spirit to enable the college to grow. Various committees have been constituted for the welfare of the students and the smooth functioning of the college. The Units namely NSS, Red Ribbon and Rovers and Rangers make the students responsible and disciplined. The college offers various scholarships and awards to the students of different categories for their academic growth.
The college campus has its own buildings, rich library, spacious class-rooms, gymnasium, labs with high academic ambience, smart class-rooms, playground, computer centre, multipurpose hall and modern canteen. I encourage all the students and the learned faculty of the college to take advantage of the various facilities provided by the college.
Dear students, this is the era of tough competition. So, come to this college with a spirit to learn and increase your knowledge day by day. Make the best use of library as it has thousands of books, so many newspapers and magazines. There is no shortcut to success. Hard work, commitment and lots of practice make a man perfect. Overuse and misuse of mobile, T.V. and internet cause distraction, health hazards and wastage of precious time. Instead take active part in sports and extra-curricular activities to groom up healthy and balanced personality. In a true sense, education means acquiring sound knowledge and attaining strong values of life to be refined human beings and responsible citizens.
I wish all the best to each one associated with Govt. College, Naura. My best wishes to all the aspirants.
Dr. (Mrs) Sanjivan Katoch
Principal
Govt College Naura
Distt Kangra (HP)